I've made no secret of my love for the fall. The colors, the cool weather, the comfort food; it's all wonderful in my book. Naturally, fall decorating is one of my favorites. For me, this is no time for restraint. Autumn is all about abundance. It's harvest time, when the fruit of summer's labor is finally gathered and consumed. Autumn is a celebration and I wanted my mantel to reflect that idea.
I started off by gathering together all my fall-ish decor and "harvesting" my mantel theme from there. I've been looking for an excuse to use the opulent gold frame I found at a craft store for $6, and this seemed like a perfect opportunity. The framed monogram was cobbled together with things I had around the house. I lined the oval frame with burlap for textural interest. The candles were from my kitchen
"beachy" summer mantel
, I just moved them into the living room for fall.
The little cherubs were a garage sale find from way back, and I've been collecting white pumpkins for several years. I pick up a few every year after Halloween when they go on clearance. In fact, the only thing new is the garland. I bought two strands at Micheal's and wound them together, then added the burlap ribbon to fill in the gaps and really enhance the feeling of autumn's plenty.
Even the guardians of our hearth (the literary lions, Tolkien and Lewis) were bedecked in honor of the harvest bounty. A bouquet of pheasant feathers and wheat round out the celebration of nature.
Though it's not part of our harvest mantel, I also wanted to share the simple message written on the chalkboard near our front door. As we move into the holiday season, I am always more aware of the importance to "gather and give thanks" but it's something I try and live throughout the year, too. Being able to gather together with loved ones and give thanks for the abundance of blessings in our lives is a gift I hope to enjoy over and over again in the coming months.

I'll be linking up here: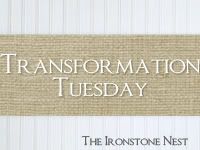 Jennifer Rizzo